Add 12 Step National Meetings To Your Website

We encourage you to add 12 Step National Meetings to your website, giving your users direct access to this site. Your organization can help provide support to recovery members and their families by raising awareness of this valuable resource. To create a link to the National 12 Step Meetings website, simply copy the code below and paste it into your web page. You can add just a text link or use the graphic below. If you link to us, we would greatly appreciate an e-mail to let us know.
You can reach the National 12 Step Meetings on our Contact Us page. Share Our Site on Facebook and Twitter.
As you browse our site, you might find something that you want to share on Twitter and Facebook, etc. To facilitate this, there is a sharing widget at the bottom of most pages on our site (like this one). Mouse over the widget, choose the resource you want, and click its icon to connect to that site and post our link.
12 Step National Meeting Links
Below we have a series of sample text and graphic links you can copy and paste into your site. Click inside a box to select the text, and then copy and paste it. You might end up customizing the code to fit into your site, such as adding a closing forward slash to image tags to validate on XHTML sites (ignore that if you don't know what it means).
Text Links for 12 Step National Meetings
Here's a basic text link; as noted above, we prefer that you link to us using our full name "12 Step National Meetings".
The above HTML displays as:
12 Step National Meetings
Graphic Links for 12 Step National Meetings
You also can display our logo and make it a link. For your convenience, the copy-and-paste HTML below links to various sizes of the logo on our site so you can use our logo without downloading the logo and uploading it to your site. However, if you can upload graphic files to your site, you should right-click the logo of your choice (Ctrl-click on a Mac), save it to your hard drive, and then upload and incorporate it into your site as desired.
Copy and Paste below 12 Step National Meetings code into your webpage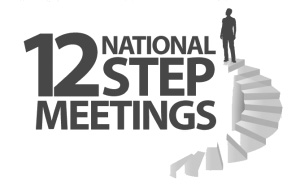 Copy and Paste below 12 Step National Meetings code into your webpage